A GUIDE TO...
THIS PAGE IS A QUICK GUIDE ON HOW TO MAKE YOUR TRANSITION TO CALIFORNIA SMOOTHER
HOW TO APPLY FOR YOUR SOCIAL SECURITY NUMBER AS A NON-CITIZEN
example SS Card. (You much have one of these in order to work in the states)
Upon admission to the United States based on your immigrant visa, you will be a U.S. permanent resident. Each permanent resident needs a Social Security Number (SSN). An SSN will help you to work in the United States, to conduct business with a bank or financial institution, to pay your taxes or to be listed as a dependent on a tax return, and for other purposes.
If You Requested an SSN When You Applied for Your Visa
If you requested an SSN card as part of your visa application, U.S. Department of State (DoS), Form DS 230, "Application for Immigrant Visa and Alien Registration" or the electronic Form DS 260, "Immigrant Visa Electronic Application", DoS and the U.S. Department of Homeland Security will share with us the information needed to issue you an SSN card. Therefore, you do not need to fill out a special application or go to a Social Security office to get an SSN.
We will assign you an SSN and issue you a Social Security card after you arrive in the United States. If you already have an SSN, we will issue you a replacement SSN card. We will mail your SSN card to the U.S. mailing address where the Department of Homeland Security will send your Permanent Resident Card. You should receive your Social Security card within 3 weeks after you arrive.
IMPORTANT:

Call us if you do not receive your Social Security card after 3 weeks or if you change your mailing address after arrival in the United States. If you call us, please have this letter with you. It will help us answer your questions.
If You Did Not Request an SSN When You Applied for Your Visa
You must come to a Social Security office to apply for an SSN if you did not request an SSN card as part of your visa application. When you have a permanent address, please contact us to find out where to apply for an SSN card.
When you visit a Social Security office to apply for a Social Security card, take the following papers with you:
Your passport with your Machine-Readable Immigrant Visa (MRIV) or Permanent Resident Card (Form I-551) if you have it; and,
your birth certificate and a birth certificate for each member of your family applying for a Social Security number.
If you are applying for a replacement card you will only need your passport with your MRIV or Permanent Resident Card (Form I-551), if you have received it.
A Social Security representative will help you complete the application. You should receive your SSN card within 2 weeks after we have everything we need to process your application. If we need to verify any document you show us, it may take longer.
Additional Information
The information you give us for getting an SSN is confidential. This means that we do not share your information except as provided for under the law. For example, we may share information with other government agencies as permitted under the Privacy Act. For more information about this, please contact us.
In the United States, you may call the telephone number listed for the Social Security office in the local telephone directory under "United States Government" or Social Security's toll-free number, 1-800-772-1213. You can also find the nearest Social Security office on the Internet at www.socialsecurity.gov. If you need to contact us before you leave for the United States, contact the U.S. embassy or consulate in your area. In the Philippines, contact the Veteran's Affairs Regional Office in Manila.
HOW TO APPLY FOR A CALIFORNIA DRIVER'S LICENSE OR I.D. CARD
Example of California Driver's license.
How to apply for a driver license if you are over 18
If you are a visitor in California over 18 and have a valid driver license from your home state or country, you may drive in this state without getting a California driver license as long as your home state license remains valid.
If you are on any type of working visa (non tourist visa) you are considered a resident. If you become a California resident, you must get a California driver license within 10 days. Residency is established by voting in a California election, paying resident tuition, filing for a homeowner's property tax exemption, or any other privilege or benefit not ordinarily extended to nonresidents.
To apply for an original driver license if you are over 18, you will need to do the following:
Note: To allow you sufficient time for testing DMV will not be administering written or audio exams after 4:30 p.m.
You will then be issued a permit if you have never been licensed before. When you practice, you must have an accompanying adult who is 18 years of age or older, with a valid California license. This person must be close enough to you to take control of the vehicle if necessary. It is illegal for you to drive alone.
If you have a license from another country, you will be required to take a driving test. If you have a license from another state, the driving test can be waived.
To take your driving test, you will need to:
Make a driving test Appointment(s) . (Driving tests are not given without an appointment.) You may also call 1–800–777–0133 between the hours of 8 a.m. and 5 p.m. Monday–Friday, to make a driving test appointment.
Provide proof of financial responsibility
You have three chances to pass the driving test. If you fail, you may practice for a while, then make another appointment. There is no waiting period, but you must make an appointment. If you fail to successfully complete the driving test on the first attempt, you must pay a $6 fee for each additional driving test that is administered under an application for an original or renewal driver license.
After you pass your driving test you will be issued an interim license valid for 90 days until you receive your new photo license in the mail. Double–check your address before you leave DMV and tell the DMV representative if you have moved or if your address is incorrect. If you have not received your license after 60 days, call 1–800–777–0133 and they can check on the status for you. Have your interim license with you to provide information when requested.
If your name is different on your birth date and/or legal presence document than the one you are currently using, you will also need to provide an additional acceptable document to establish your true full name, such as; a marriage certificate, dissolution of marriage, adoption or name change document that shows your current name.
HOW TO REPLACE A LOST, STOLEN, DAMAGED OR DESTROYED BRITISH DRIVING LICENSE FROM THE USA.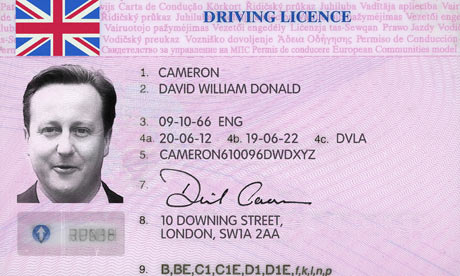 Get a replacement driving licence online with

DVLA

if yours gets lost, stolen, damaged or destroyed. Apply using your Government Gateway ID. If you don't have one or need to re-register, you'll get an ID as part of your application.
HOW TO APPLY FOR YOUR BRITISH PASSPORT WHILE LIVING IN THE USA
When British Nationals realise that their passport is about to run out, what can they do?
Britons resident overseas must now apply for their passports ONLINE via

gov.uk

website .. as part of worldwide change to passport process .. and the British Consulate says "don't leave it until the last minute to apply for your passport. You can apply up to nine months in advance and any unexpired time will be added to your new passport" (

https://www.gov.uk/overseas-passports

) · You can book a same day appointment in the UK for a renewal passport? However if you have lost your passport and go home on an emergency document, it can take a week for an expedited renewal: You can find your nearest

Passport Customer Service Centre

. Your appointment may be up to 2 weeks from the day you book it. Passport Advice line Telephone:

0300 222 0000

Textphone:

0300 222 0222

Text Relay:

18001 0300

222 0000 Monday to Friday, 8am to 8pm Saturday, Sunday and public holidays, 9am to 5:30pm Please check here for frequently asked questions.
The Home Office is the lead government department on nationality matters. If you have an enquiry about eligibility for British citizenship or nationality, information can be found at:

https://www.gov.uk/british-passport-eligibility

.
If you need detailed information about what type of passport you need, what documents you need to supply for different types of application please go to What passport do I need? page
Urgent Travel:


If you need to travel urgently and your normal passport is not available you should contact

your nearest consular office

. They may be able to provide you with emergency travel documentation. Please note they will not be able to answer general passport questions or give information on passport applications in progress (as they are no longer involved in this process). You should only contact them if you have a need to travel urgently and you will be asked to supply evidence of your need.
Contact :
If you cannot find the information you need on the GOV.UK website, please contact the Passport Adviceline on +44 300 222 0000
UK Passport photos are a different size to the USA. So visit

Photo Center on Beverly Blvd

http://www.yelp.com/biz/photo-center-los-angeles to get them done.
HOW TO VOTE BACK IN THE UK WHEN LIVING IN THE US
You can vote in general parliamentary elections and European parliamentary elections for up to 15 years after moving abroad.
If you're temporarily abroad on election day you can vote by post or proxy. You must arrange this in advance.
are a British citizen living abroad

have registered to vote in the UK within the past 15 years
Overseas voters can vote by post or by proxy - or in person if you happen to be in the right place on polling day and aren't voting by post or proxy.